PERFORMANCE
Performance can be heightened with optimized balance
Powertrain
It is the engine that determines the performance of a car. Kia Motors focuses on developing a engine that consumes minimal fuel, but produces performance that matches the intended car according to its size and usage.
Engine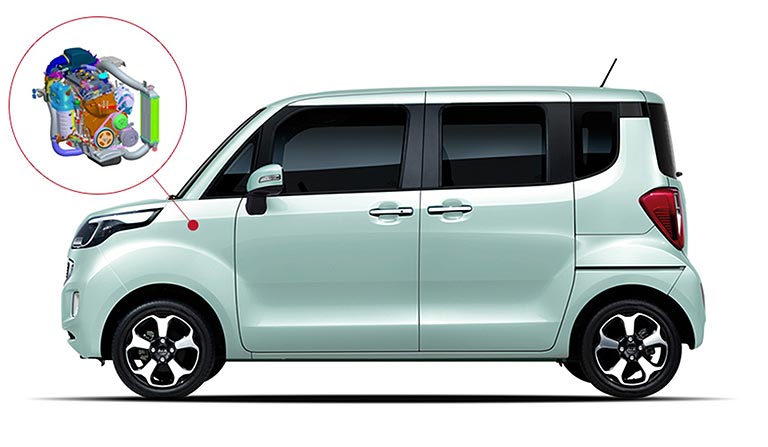 Kappa 1.0 Turbo Engine
Applied Vehicles : Ray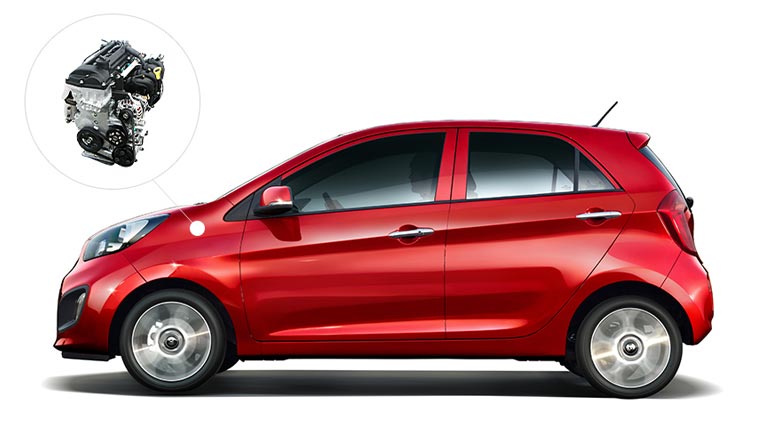 Kappa Engine
Applied Vehicles : morning
Engines that can provide the power to run in any condition
We put our engines through rigorous testing in the highest, hottest and coldest places
that a car can possibly be before we use them in our cars.

Switzerland

: Winter -20℃ / 2,300m

Spain

: Summer 48℃ / 4,350m

Sweden

: Winter -30℃

China

: Summer 39℃ / Winter -35℃ / 4,767m

Austraila

: Summer 40℃ / 1,800m

United States

: Summer 48℃ / Winter -35℃ / 4,350m

Equador

: Summer 25℃ / 4,500m

Brazil

: Summer 35℃
Rear-wheel Drive Platform
Rear wheel drive places the engine in the front of the vehicle and the driven wheels are located at the rear. This results in balanced weight distribution for higher steering stability. Rear wheel drive also enables greater driving performance since the front wheels are responsible for steering and the rear wheels for driving. In addition, it allows for greater grip on the rear wheel for better acceleration. Wheelbase is larger on the rear wheel drive platform, resulting in larger cabin room
Dynamic Performance Innovation
A wide range of controls and driving assists on a Kia car will get you unparalleled driving experiences.
Electronic 4WD

A system that changes the distribution of driving force between front and rear wheels to enhance driving performance

Advanced Idle Stop & Go System

A system that changes the distribution of driving force between front and rear wheels to enhance driving performance

Electronic Parking Brake & Auto Hold

With this system, the parking brake is engaged and disengaged at the push of a button. The brake gets automatically disengaged when you start the car.
Durability test
Seven ways to ruin your car
We ruin our cars in various ways, identify causes and find solutions to them to make our cars endure over a long time without fault.
Parts Durability test
1 Item Durability test

2 Module Durability test
Real car Durability test
3

Belgian road test

4

High speed test

5

Corrosion test

6

P/T test

7

General test test
Marginal Test
Durability tests in different places of the world
We test our cars in extreme weather conditions including desert with blazing sunlight and coldness of 40 degrees below zero.
Urban test
Offroad test
Test under
extreme coldness
Test under
extreme heat

Driving Test
Any fault in your car can affect your safety. For this reason, we put our cars to endurance test under diverse harsh conditions that can be encountered on Earth.
Long Hill Road

The long hill road, which you can see only at the California Proving Ground, is a test road stretching over a long range with a mild grade of 2 to 12 percent. The view of the entire Proving Ground from the top of the hill is absolutely breath-taking. The hill-climbing ability and auto cruise performance of Kia cars are tested here.

Off Road

Driving on the off road in the California Proving Ground will make you feel as if you were running across a desert. When your car disturbs sandy dust on the road into the air as you speed, you may well feel like a movie star chasing a bad guy. This road is used for the testing of SUVs and other 4 wheel drive vehicles.

Durability Test Road

Consisting of over a dozen surfaces that are mostly likely to be encountered in the U.S., the endurance test road is so rough that driving around 10,000 miles on it gives the same effect of driving around 60,000 on regular roads. Cars that survive the test only can be presented to customers

Universal Test Road

The universal road looks like a fan and, as the name suggests, hosts a variety of tests. They include steering stability test, braking test and other R&H related tests as well as compliance test regarding rollover.

Handling Test Road

The handling test road bends and winds over a long range. Test on this road is required for cars that have to run on U.S. soil full of high hills and steep mountains. Cars will have response as quick as drivers want when they have successfully gone through the test.

Straight Road

This test road crosses the hottest part of the California Proving Ground located on Mojave Desert that is notorious for deadly heat. You'd feel like it's over 90℃ when you are exposed on the road.
The car reflected on the ground is a kind of mirage created by haze rising from the heated ground.